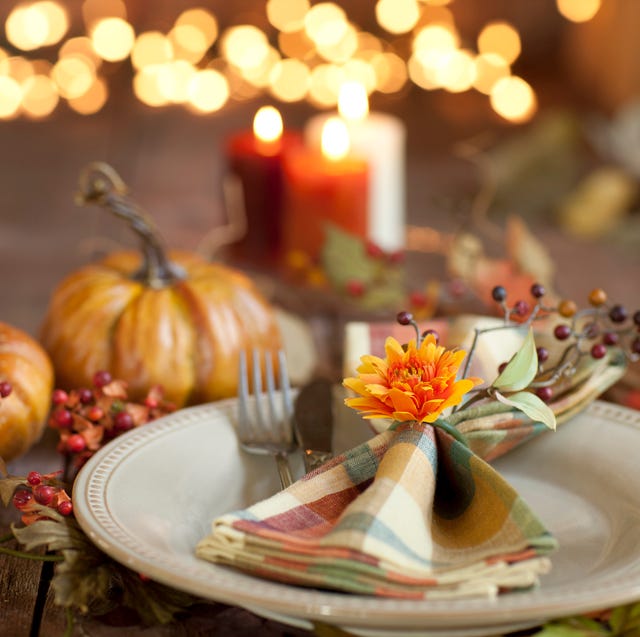 Sep 21st, 2021
Posted by Ann.

Let's dim the lights and do this post by candlelight! Now that it gets darker earlier and there is a chill in the air, it's time to get out candles. Thanksgiving is a perfect time to make a beautiful grouping of late fall elements and glowing candlelight! YOU CAN put together seasonal grouping that will bring a warm ambiance to your home! This cozy, yet elegant, group of candles is so easy to do it will take you about 10 minutes to put together… and give you many evenings of enjoyment until Thanksgiving!
Here's a quick tutorial for a pretty late fall vignette.
Choose various sizes of glass cylinders and some pretty pillar candles. Fill the bottom of the cylinders with nuts, or corn or other natural elements like coffee beans or split peas or pebbles. LOVE that organic look, don't you? I bet you have some great filler in your pantry right now!
Nestle your candles down inside the cylinders and group them with some candlesticks topped with pumpkins… just for seasonal fun!



I put my Thanksgiving candle grouping in a glass and wrought iron tray. It has a mirrored bottom which reflects the candlelight and gives the whole vignette a little extra warmth and glimmer!

How easy is that? Less than 10 minutes and hours of fall evening enjoyment. Okay, now it's your turn to make your take on this 10 MINUTE DECOR!!!


Take a look at my stores for even more Thanksgiving Decoration Ideas:
Svgidea.com
Usacricut.com
Designcategory.com
In a zip file, you will find everything you need. You simply need to unzip the file to see Svg, Png, Eps, Dxf, and Pdf files that you may use with your own machines/software. For example, with the Cricut, you can use SVG files, and with the Silhouette HTV Cameo, you can use PNG - DXF files.

If you have any questions about how to purchase an item from us or our digital file policy, please contact me with one click. We also offer support staff to assist you with any purchase, order, or design suggestions.
Please contact me on my Facebook page, Whatsapp, or email: svgidea@gmail.com